JG18L Crawler type Mini Excavators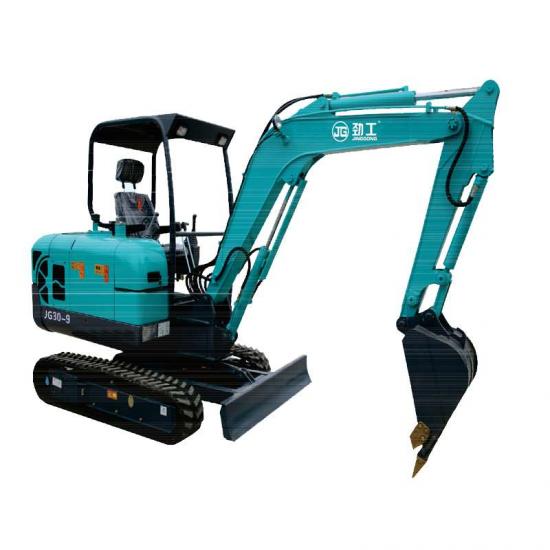 1.6 Ton Mini Crawler Excavator With 90 Degree Left Rotation
The arm provides a left rotary angle of 90°and a right angle of 50°, making the move and turn simply easy.This mini crawler excavator is widely used in orchards, vegetable greenhouses, farms, etc.
Features
1.Variable frame that can be easily extended and retracted by operating the joystick.
2.The boom cylinder is provided on the back of the boom. When loading sand and soil into a 2t dump truck, there is no need to worry about damage to the boom cylinder.
3.When walking, even if the working device is operated, there will be no curved travel or speed change, and stable linear travel can be achieved.
4.The hood is treated with sheet metal, which greatly improves the strength. Even if there are scratches or depressions, it can be maintained through sheet metal and spray painting, which greatly reduces the repair cost.
Main Parameters
| | |
| --- | --- |
| Length*width*height | 3630*1000*2150mm |
| Rated Power | 13.6KW/19KW |
| Machine weight | 1600KG |
We provide more optional parts to complete more kinds of work. We provide a variety of work tools such as grabs, forks, pulverizers, etc. to meet your various application needs. In addition, a variety of fixtures are provided to optimize the performance of the machine. The auxiliary hydraulic lines are arranged on the base of the boom, making the auxiliary hydraulic circuit easier to install, thereby reducing the time, parts and costs required for installing work tools. 
Why Choose Us
1.Strict quality management produce effective and stable products to meet customers' needs.
2. Strict detecting system and advanced inspection equipment.
3.Professional sales team, quality inspection & report, maritime logistics guidance.
4.We grants our clients a twelve-month-period or 2000-hours warranty for any machine purchased from us. 
5.We offer perfect facilities and comfortable environment and can provide training services to different users.
Company
We are a leading manufacturer and exporter of wheel excavators, crawler excavators, sugarcane harvesters, sugarcane grab loaders, multi-function excavators. We have nearly 20 years of professional experience, and our products have been exported to many countries.
Workshop Display
Our company abides by the business philosophy of "quality first, customer first" to ensure product quality. We have rigorous production procedures, and each production process is carried out under strict quality inspection.Only after passing the inspection can they move on to the next procedure. At the same time, we insist on creating a neat, clean and safe working environment.
Process